Imagine The Possibilities
Of A Paperless Workforce
Go Paperless & Cut Admin By 80%+ With
Our No-Code Drag-n-Drop App Builder
No Credit Card Required. Android, iOS & Windows
Improve Workflows, Safeguard Data, &
Amplify Production with a 90 Day Headstart
From inspection forms to comprehensive workflows, embrace
industrial-grade custom mobile apps for a paperless workforce.
Our $90 for 90 days promotion not only gives you the platform to
take your processes paperless, we also give you 15 Premium users
so your team can try it out & enjoy the immediate benefits.
Greater Agility
Improve job productivity & collaboration between workers in the office & field.
Offline Capable
Use apps & continue working with or without an internet connection with full offline capabilities.
Speed & Power
Apps are native for increased speed. Access powerful device capabilities like NFC & GPS.
Safe & Secure
Your data remains secure, backed up & in line with
local legislative storage requirements.
"Appenate allowed our company to go paperless in the field & gave us the ability to move towards other paperless operations."
– Junetta, Total Group
"If you are looking for a level of support that absolutely blows your mind, do yourself a favour and use Appenate."
– Dan S.
90 Days To Paperless Efficiency
When you signup for our 90 days of Appenate for $90 deal, you'll get 15 Premium users, FREE specialist training and support,
and access to all app builder functions. Save over $500 and get your processes moving towards a paperless future. Fast!
Explore Appenate
Get moving fast with free specialist training & support
Your First App
Publish & test
your apps live
in the field
Your Success
Say cheers to paper
& hello to paperless efficiency 🏆
Ready-To-Use App Examples
Bad workflows are the hidden time wasters slowing you down & costing your business money.
Recreate checklists, inspections, safety audits, & so much more with our drag-and-drop mobile form builder.
Build whatever it is you need with virtually no limits.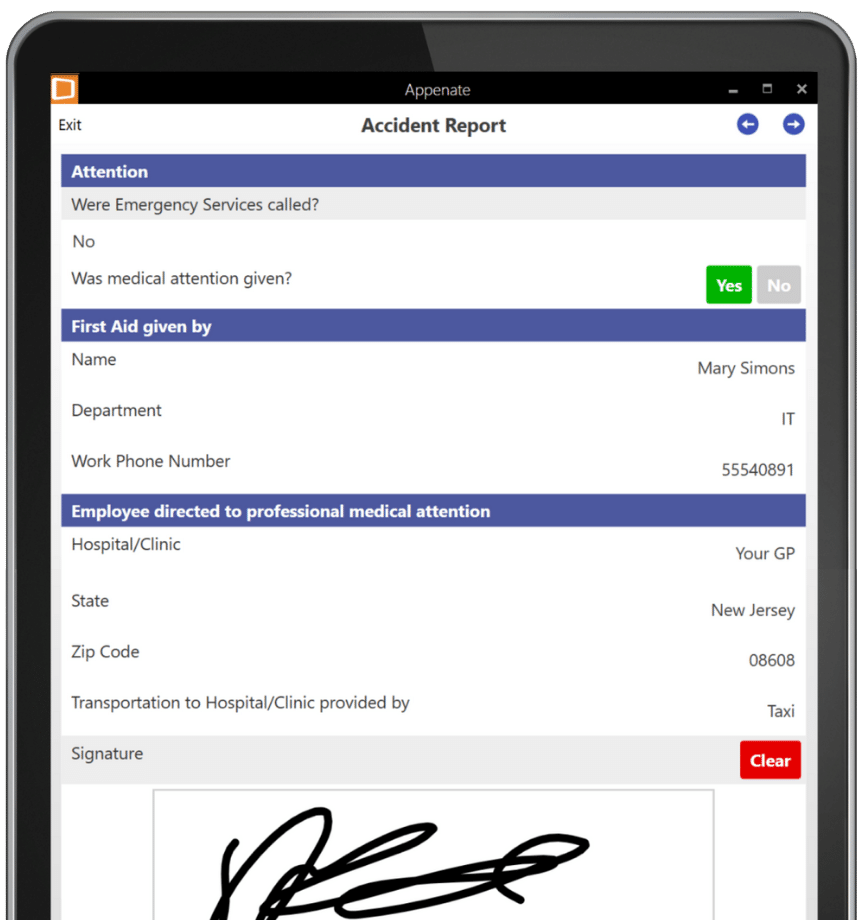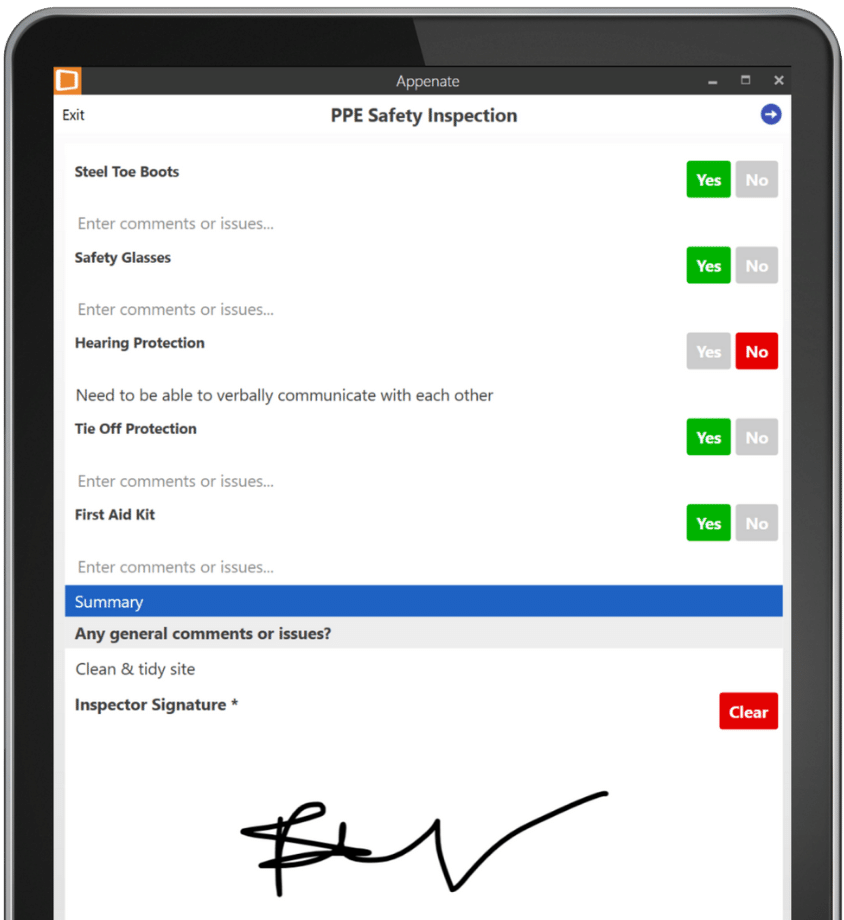 A Task Management System
That Makes Sense
A Task Management System That Makes Sense
Managing tasks out in the field doesn't need to be time-consuming. Automate task flows – complete with push notifications, view task maps, set minimum requirements for completion and much more.

You can also set up recurring tasks and view current active tasks along with their status. Linking tasks to certain apps or forms is also straightforward, and goes a long way to keeping your workforce focused, organized and productive.
Transfer Real-Time Data Directly
Into Your Existing Systems
Our Connectors will help you link up with tools like PowerBI, Email, Salesforce and many others. For everything else, we have a REST API that's capable of linking to any web service with an exposed API.

This means you can integrate your business with your entire tool stack without building APIs from scratch.
Mobile Forms In Under 5 Minutes
Web Forms: Now Anyone, Anywhere Can Complete Your Forms
Our powerful new add-on, Web Forms, allows you to create and send functional Appenate apps to ad hoc users to complete via their web browser.
For example, a tradesman performing your annual machinery service can now complete your safety survey form via a web browser on his mobile device, without installing the Appenate app. This opens many new possibilities for you as an Appenate customer – without worrying about once-off license fees.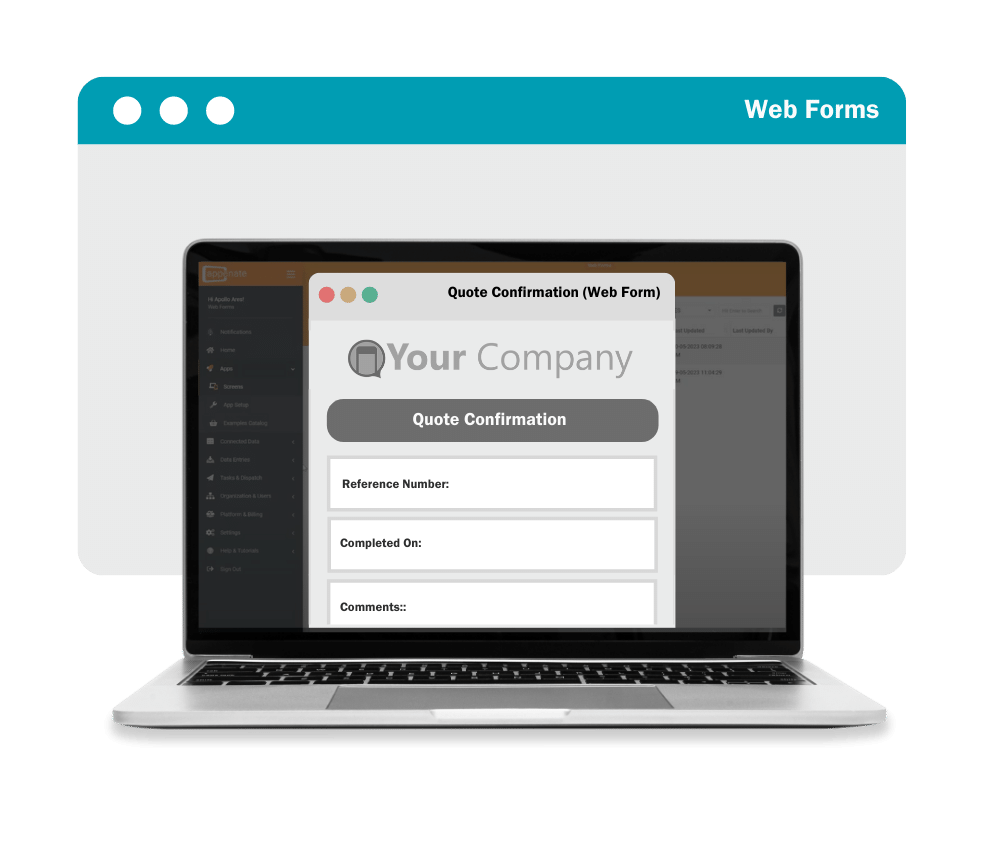 "I have to highlight the ease of use, it is not necessary to have IT knowledge to operate the tool. Generating a service order with scheduling is very effective."
– James C.
.
Free Trial, Support & Training
You're unique and so is your business – we get that.
That's why we offer you a free trial to get to grips with Appenate – and to put us to the test in your working environment.
Here's a peek at what others have to say…
"Appenate is for us, the platform that provides a major column of our digitalization."
– Director – Heidelberg USA Inc.
"Less than 24-hrs later, I had a back-and-forth, technical dialogue, in words I could understand "
Trusted By 75 000+ Users In 60+ Countries

Going Paperless Starts Here!
Create Data-Driven Apps Without Coding.
View & Capture Data In The Field & Office.
Dispatch Tasks & Automate Operations.
End-To-End White Label Capabilities.
Build Apps Fast With Free 1-On-1 Training.
Full Access. No Credit Card Required.
90 Days For $90 On All New Accounts,
15 Premium Users Included.
Limited Time Only (Excludes GST)