How It Works
For Enterprise
Empower Your Business With Offline-Capable Apps Built For Enterprise. No Coding Required.
Full Access. No Credit Card Required.
Automate Business Processes Across iOS, Android & Windows
A massive shift is happening in enterprises with the rise of BYOD (Bring Your Own Device) & increasingly powerful smartphones & tablets.
The efficiency and productivity gains from mobile applications software are apparent, but you've got to keep up with it!
Your Data Is Safe
Leverage our technology without the risk of developing costly platform infrastructure or specialised skills within your business.
Save Costs
Mobile apps can be rapidly created and deployed with ease, all without needing to involve costly software developers.
License Your Way
We offer comprehensive integration options, supporting both cloud & on-premise deployment. Perpetual plans available.
Easy & Fast
Our easy to use tools empower business analysts and stakeholders to create native mobile apps with full offline capability.
"We found Appenate and realized that it was more than just mobile forms."
– Enterprise X

Go Paperless With Mobile Apps
$90 For 90 Days (Save 89%)
Get your processes flowing with 90 days of Appenate for just $90. Free support & training throughout your time with us.
Web Forms: Now Anyone, Anywhere Can Complete Your Forms
Our powerful new add-on, Web Forms, allows you to create and send functional Appenate apps to ad hoc users to complete via their web browser.
For example, a tradesman performing your annual machinery service can now complete your safety survey form via a web browser on his mobile device, without installing the Appenate app. This opens many new possibilities for you as an Appenate customer – without worrying about once-off license fees.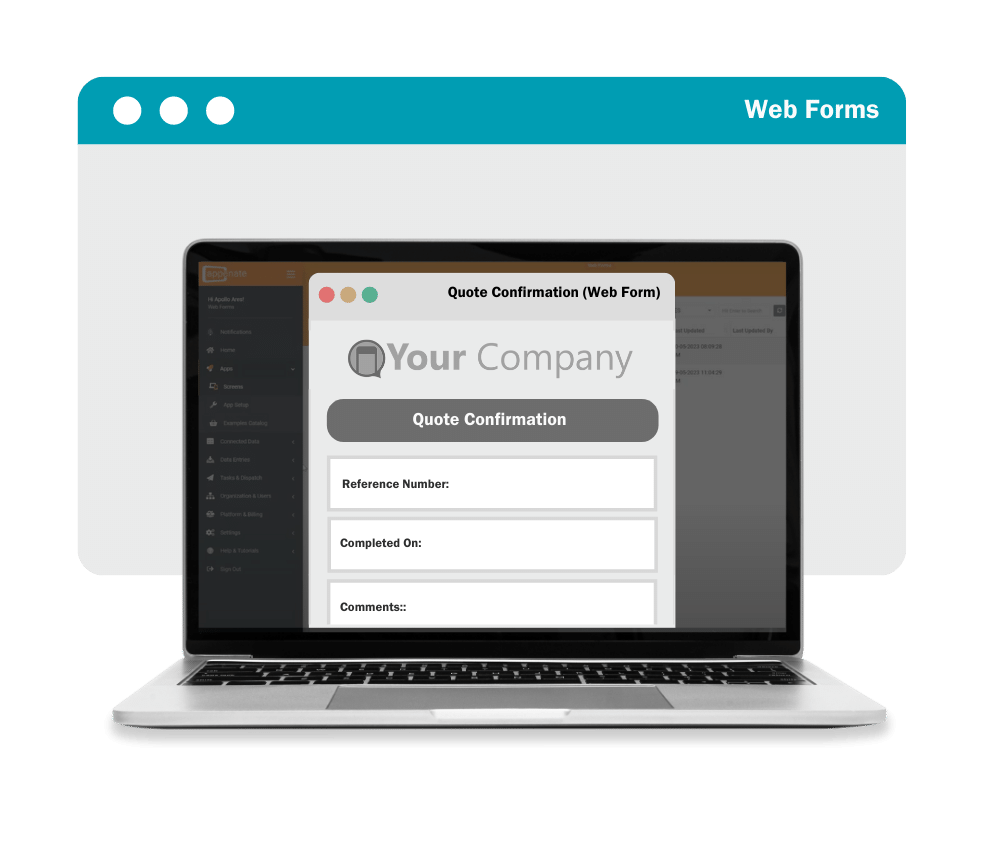 Enterprise Grade App Technology
Offline Capability as Standard
Seamless Sync
Access Control
Platform Management Page
Subscription Or Perpetual Licensing
Cloud Or On-Premise Options
Separate Department Environments
Support For Single Sign-On
Book A Guided Tour & Explore Appenate Today
Accelerate Business Processes
Easy App Creation
Job Dispatch
Cross Platform Development
Enterprise Grade App Technology
Push Notifications
Location & Mapping
Data Connectors and Integration
NFC Tag Reading/Writing
"Appenate's Table Field Type has significantly improved our user experience and ease of development on many forms."
Create A Line of Business Apps
Mobile Forms
Field Data Collection
Optimize Business Workflow
Capture Electronic Signatures
Business Process Management
Integrate With Enterprise Software
On-Premise Option
Simplify Data Management With Appenate
Transfer Real-Time Data Directly Into Your Existing Systems
Pull Data
Connect and import data from systems like SharePoint into your mobile apps. Filter your lists to select the data you need to be pulled.
Visualise Data
Turn your data into dynamic apps with easy mapping & inquiry screens. Open up access to information on the move with drill-down and filtering options.
Capture Data
Rapidly deploy data capture functionality to users in the field. Extend existing data capture screens from desktop or web systems to a mobile app.
Push Data
Push files & data entries to systems like Box, SharePoint,& more. Generate Word, Excel & PDF outputs with our powerful data template functionality.
Get Started With A Free Trial Today!