The past few months have seen our team put a strong focus on improvements to our internal systems, processes and testing.
We've made some great strides in this area, which is already paying off in better quality in many parts of our platform and app engine.
As we round out 2017, we're excited to release a major upgrade to our App as a Service offering – this comes in the form of our all-new Branding Center. Along with this shiny new functionality for branded app customers, we've also been steadily fixing various minor bugs found on our app engines, across iOS, Android and Windows. These fixes will be released to all customer apps as part of a minor app update, expected to roll out from later this week.
This will be our final update for 2017, with the next app update currently planned for February 2018.
Keep an eye out for invites to our final webinar of 2017 as well – we'll be giving a quick overview of the Branding Center along with a recap of our favorite 2017 new features. And for all those asking – we'll reveal our plans for 2018 after the holiday period 😉
Introducing the Branding Center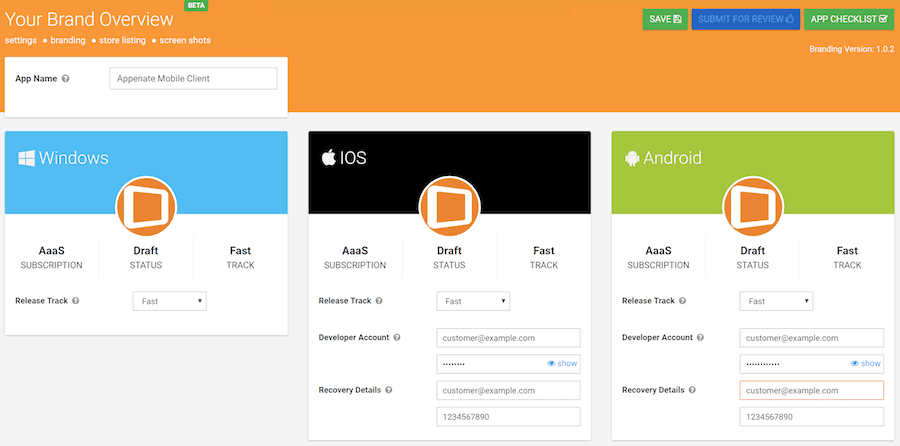 A couple of months ago we engaged with Apple to ensure that our app engine framework and branded app approach continued to be compliant with Apple's evolving App Store rules. One of the outcomes of this process was that Apple required us to enforce a higher level of distinctiveness and quality in customer branded apps. Luckily we had already started a large project to standardise and systemise our brand app creation and publishing process 🙂
The Branding Center is the result of this multi-month effort – a single area in the platform for you to manage your App as a Service apps, all the way from colours and imagery, through to app store listing text and publishing.
This new area also incorporates our standard process of reviewing, optimising and quality-checking every branded app submission, as we strive to ensure the best possible app result for all involved.
Also included are all the existing options for Website as a Service (if you have subscribed to this), giving you one place to manage all aspects of your white label solution.
App Updates, Improvements and General Fixes
As mentioned earlier, we'll be rolling out a minor bug-fix update for all customer branded apps, starting later this week.
This app update has no new features, just small tweaks and fixes to issues uncovered over the past few months.
Additionally, we've continued our usual approach of deploying regular fixes and incremental improvements to our secure web portal. Below is a quick summary of key fixes and improvements we've made:
App Engine/Framework
Fixes and improvements to time (hours/minutes) calculations and input in Forms
Removed 50 result limit on Mapping screen searches
Do not overwrite Hosted GET rows stored on device when GET service request fails or cannot connect
Prevent app crashes on Android during image edits when device/operating system version does not support EXIF
Ensure Data Source row caches are cleared on user log out to prevent stale row data reads between logins
Always show loading overlay during Form screen load/resume to prevent user inputs before large Form screens are loaded
Various iOS 11 compatibility updates and fixes
Fixes to "Hide Remember Answers" feature for specific problem scenarios
Improved formula error text in specific scenarios where messaging was too vague
Updated Windows app to use new mapping provider due to reliability issues with prior provider
Fixed isolated problem cases with opening of FTP and unsecured HTTP web addresses through app actions
Web Portal/Platform
Variety of fixes and improvements to template engine for various nested HIDEIF and REPEATSTART combinations
Added "Replace Rows" option to Repository to allow overwrite of Data Source rows in target accounts during installs
Fixed issue with incorrect defaulting of array properties when issuing XML PUT operations against our external API
Reduced maximum displayable columns on tabular Data area to 250 (down from 1,500), due to browser performance issues when displaying entry data for Forms with very large numbers of fields
Various fixes to Recurring Tasks in terms of editing of individual Task instances as well as Recurring Task masters
Fixes to Task Imports and Task Recurring Imports for preset fields when a Template is specified in the import
Requests to our Task/Files and FormEntry/File APIs no longer count towards company daily API request limits
Fixed inconsistency in API result when requesting data in Raw JSON format and Form entry data contains Table field data
Switched to new mapping service due to reliability issues with our previous provider
Improvements to Billable Users export
Fixed inconsistency in new account initialisation when vendor creates a new client
Finishing Strong
We're incredibly grateful for your support and amazed by the solutions you have created using Appenate this year 🙂
Our hope is that choosing Appenate has been a fruitful decision, and rest assured that we'll be finishing out 2017 strong with continued behind the scenes work throughout the holiday season.
As a company, we're preparing for an even bigger 2018 by growing our team and building the foundations for even better features and functionality in the months ahead.
From our team to yours, have a blessed Christmas and we can't wait to share an awesome New Year with you!