Capacite a los trabajadores de campo con aplicaciones basadas en datos
Cree e implemente
formularios y procesos personalizados integrados en Salesforce. Móvil y de escritorio.
Incorpore datos directamente a Salesforce
Empodere a su fuerza laboral
Cree, mantenga e implemente rápidamente aplicaciones personalizadas orientadas al trabajador
«Exploramos varios proveedores de formularios, pero finalmente elegimos Appenate. Nos dimos cuenta de que son más que solo plantillas de formularios móviles:
son una forma fácil de usar para crear nuestros propios formularios mientras administramos tareas e informes también».
– Un cliente feliz de Appenate/Salesforce
Aproveche Appenate y Salesforce para optimizar la gestión de datos de campo a oficina.
Alimente los datos recopilados en el campo directamente en Salesforce.
Genere y cargue salidas de archivos personalizadas en objetos existentes en su cuenta de Salesforce.
Mejore la productividad laboral y la colaboración entre los trabajadores de la
oficina y el campo.
Cómo juegan Appenate y Salesforce
Genere y cargue salidas de archivos personalizadas a entidades existentes en su cuenta de Salesforce.

Extraiga datos en Appenate mediante un conector de origen de datos para utilizarlos dentro de sus formularios o vuelva a insertar archivos de salida en Salesforce mediante un conector de formulario.
Nuestras aplicaciones listas para usar
Elija entre más de 190 plantillas de aplicaciones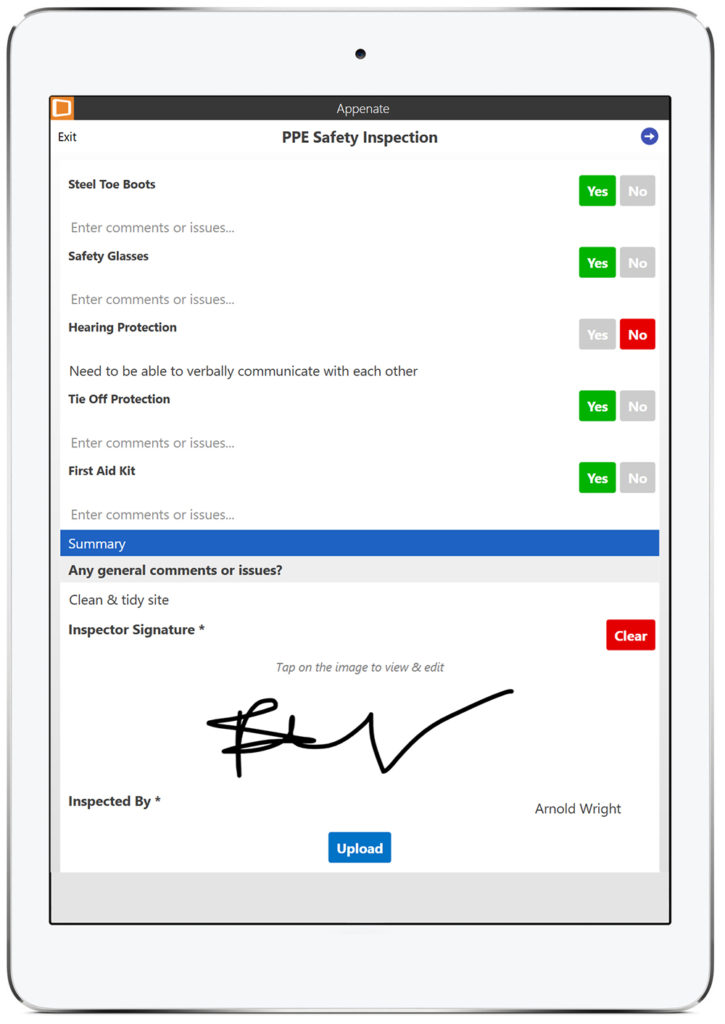 Aplicación de inspección de seguridad de EPP
Asegúrese de que los estándares de equipo de protección cumplan con los requisitos.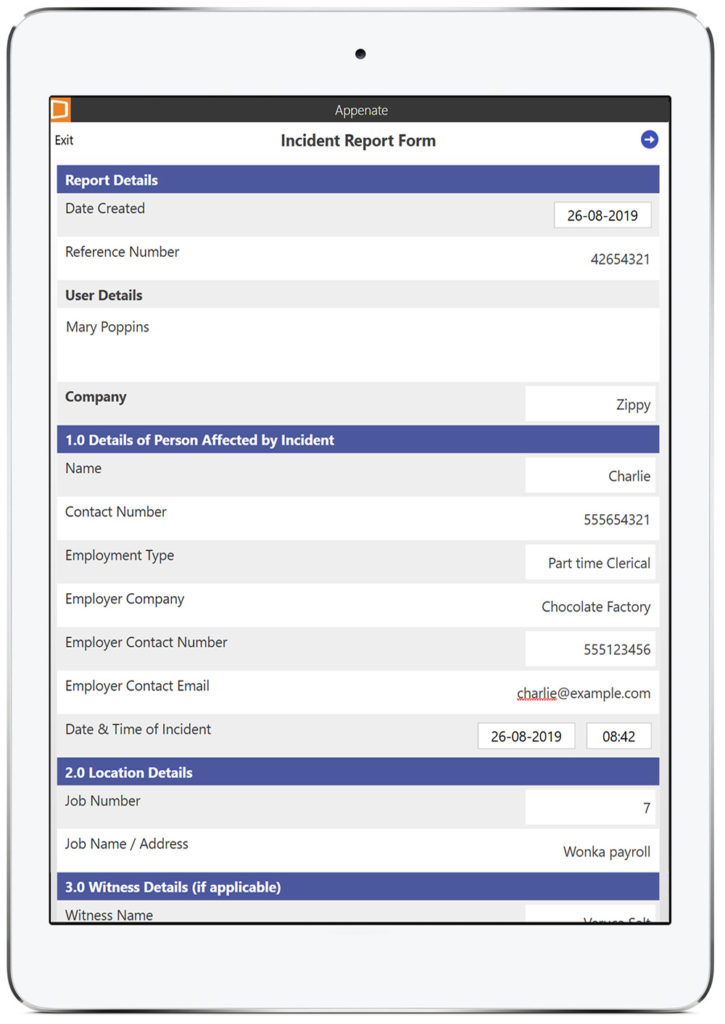 Aplicación de informe de incidentes
Realice un seguimiento de todos los datos relacionados con un incidente para la seguridad y la protección legal.
Aplicación detallada del parte de horas
Capture múltiples entradas de tiempo, su ubicación e imágenes de un trabajo completado.
Go Paperless With Mobile Forms
$90 For 90 Days (Save 89%)
We offer a free trial. If that's not enough time, you can get 90 days of Appenate for just $90. What's more, you'll enjoy free unlimited support and training from us.
Caso práctico: Una semana de trabajo entera ahorrada
Appenate, Salesforce y 40 horas menos de administrador
Enterprise X, una empresa de mantenimiento de edificios, se dio cuenta de que estaban gastando demasiado tiempo y dinero en el procesamiento manual de datos. Así que se propusieron encontrar una solución que redujera las horas de su semana laboral mientras poseía la capacidad de integrarse con Salesforce.
Con Appenate & Salesforce puedes:
Cree aplicaciones basadas en datos sin codificación.
Vea y capture datos en el campo y la oficina.
Envíe tareas y automatice su negocio.
Experimente nuestras capacidades de marca blanca de extremo a extremo.
Obtén aplicaciones de creación rápidamente con entrenamiento gratuito 1 a 1.
90 días por $ 90 en todas las cuentas
nuevas 15 usuarios Premium
incluidos, solo por tiempo limitado (Excluye GST)