Catapult Your Static Forms Into Fully Customizable Apps
Convert Forms in Seconds: Transform PDFs into Dynamic Apps with Our PDF to App Converter!
Full Access. No Credit Card Required.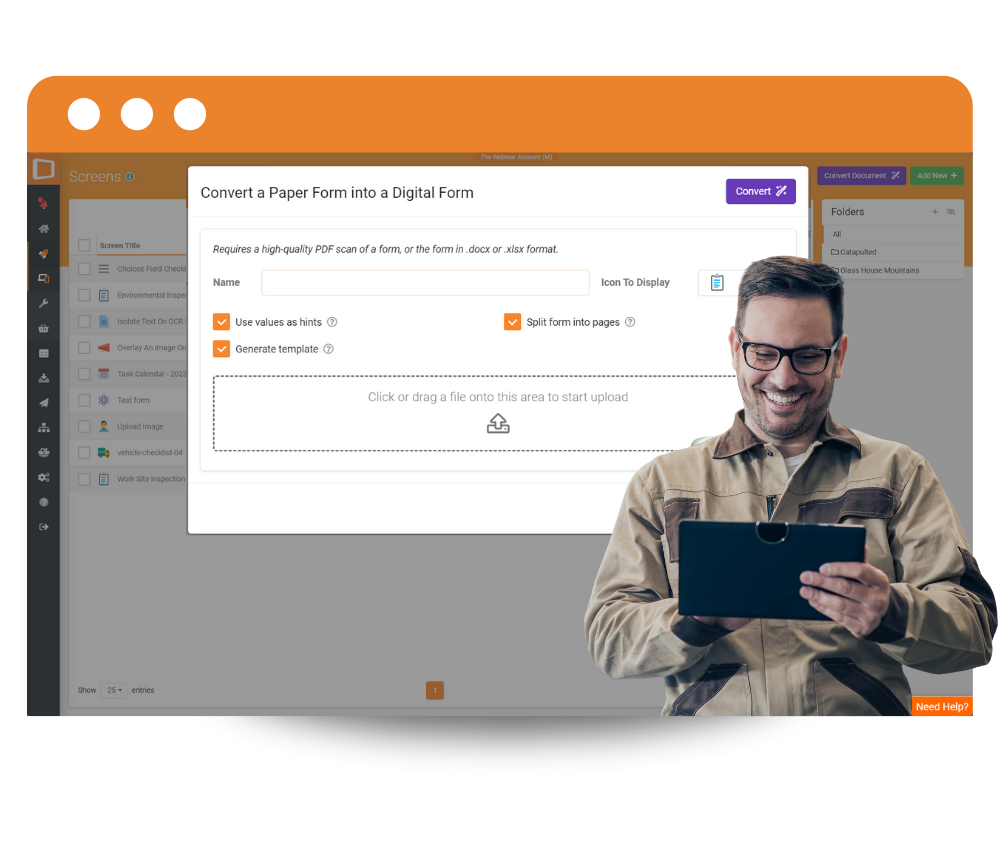 Seamless Form Creation
Say goodbye to the tedious task of manually transferring fields from paper to digital.
Our Catapult Form Converter removes the grunt work, allowing you to simply upload your forms and watch them transform into dynamic, editable apps.

You'll save time and energy with a ready-to-tweak app right at your fingertips – energizing your workflow.
How It Works
Here's the deal: take any digital form—Word, Excel, or PDF—hit 'Convert Form,' and that's it.
Your form is now an interactive app – dive straight into designing, refining, and customizing
the flow and appearance of your forms with ease. More Time for What Matters!
Go Paperless With Mobile Apps
$90 For 90 Days (Save 89%)
Get your processes flowing with 90 days of Appenate for just $90. Free support & training throughout your time with us.
Why Embrace The Catapult Form Converter?
Because your time should fuel innovation, not get bogged down in formality. If you're new to Appenate – browse around. Our platform is equipped with many features built to tackle the toughest operations with ease. Have fun!
Free Support & Training For Life
We make it a point to put our customers first. As an Appenate customer, you'll have first-class support from a competent team.
Here's a peek at what others say about our support:
"I've been in training for about 2 weeks now and this info and assistance provided by your team has been of immense help in my progress."
"If you are looking for a level of support that absolutely blows your mind, do yourself a favour and use Appenate."
Mobile Forms in Under 5 Minutes
Get Your Project Started
Create Data-Driven Apps Without Coding.
View & Capture Data In The Field & Office.
Dispatch Tasks & Automate Your Business.
Experience End-to-End White Label Capabilities.
Get Building Apps Fast With Free 1-On-1 Training.
90 Days For $90 On All New Accounts,
15 Premium Users Included.
Limited Time Only (Excludes GST)
"Appenate allowed our company to go paperless in the field & gave us the ability to move towards other paperless operations. Within a month we had a department of 12 technicians & one dispatcher using Appenate daily"
– Junetta, Commercial Service Department – Total Group